Commsworld and Boroughmuir have now been in a thriving partnership for four successful years, this isn't going to be ending anytime soon after the recent extension.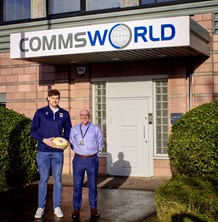 It is an incredibly exciting time for both ventures, Commsworld's expansion south of the border and Boroughmuir entering a new season along with the launch of Super6, a new tournament bridging the gap between the amateur club game and professional rugby beginning tonight  (November 8th) which sees the Boroughmuir Bears (Boroughmuir RFC's newly formed Super6 team) secure their place.
Commsworld is the main sponsor of the club with branding on all the club's strips as well as stadium advertising; and with high profile fixtures being played at Meggetland Sports Complex such as Edinburgh Rugby this helps provide substantial publicity while allowing the club to flourish. In recent years Boroughmuir has invested in their academy set up, looking to bring through the next generation of talent by creating an inclusive environment to allow them to thrive, this has been possible due to the trickle down of resources. The funding received has gone towards coaching and refereeing for all the junior sides, providing kit from P1-P7 and S1-S4.
This partnership has success on both sides with the youth section prospering as Edinburgh's premier rugby club winning the 2018/19 Whole Club National Shogun Conference and paying tribute to loyal sponsors Commsworld for its role in the club's success. Research conducted by BMC Public Health discovered that sport participation in youths was positively connected to pro-social behaviour subjective health, well-being, and sense of coherence at both measurements. Positive skills taken from this investment will lead these academy graduates in good stead for the future with the acquired skills and traits, thus trickling down to the next generation.
With the growth of Commsworld and the recent office opening in London this only makes the partnership more exciting increasing exposure for Boroughmuir Rugby throughout the country. In addition Boroughmuir are competing in a Cross-Border competition against Semi-professional Welsh clubs in 2020, clearly both brands are pushing borders aside. The promotion of hard work and determination for both parties allow an aligned message to be showcased benefitting both.
Commsworld is now a large part of this journey, as a business which has come from small beginnings itself to support such an exciting development only seems fitting to be a part of. With the shared values of development and growth it is a great fit to partner with one of Scotland's top rugby sides.
With the new season well and truly underway it looks to be another exciting year with high standards on and off the field.