Commsworld has begun the countdown to its 30-year anniversary next year by unveiling its very first official charity partner, Right There.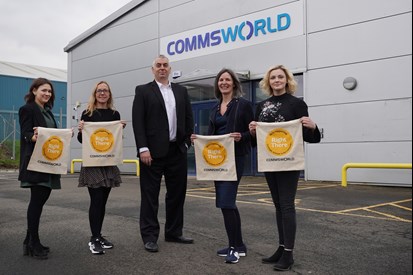 The year-long partnership was launched by Commsworld Chief Executive Steve Langmead and
Right There Chief Executive Janet Haugh at a special 'company day' at the UK-wide networking and connectivity solutions provider's new headquarters in Edinburgh.
Working across Scotland, Right There supports around 4,000 children, families and individuals each year, helping to prevent homelessness and people becoming
 separated from those they love.
It offers a range of tailored practical, emotional and therapeutic support based on the needs of each individual. This includes everything from mentoring, supported accommodation, counselling and family relationship support.
Commsworld is encouraging its employees to fundraise or volunteer over the next 12 months with Right There, with Commsworld matching pound for pound all money raised.
Current activities include staff taking part in the Edinburgh Kiltwalk on 17th September, while employees are being offered the opportunity to take paid leave to get involved with the charity.
Commsworld Chief Executive Steve Langmead said: "Right There is a fantastic charity and everyone at Commsworld is delighted that we have officially partnered up.
"Our employees have helped many different good causes over the near 30 years that Commsworld has been in existence. As a company we have backed many local clubs, including long-standing sponsorship and support of Boroughmuir Rugby for more than a decade, provided branded kits for Crusaders Rugby, and supported Glasgow City FC's role model programme.
"Now through our partnership with Right There, we will continue this long tradition of charitable fundraising and activity through many different events, activities and volunteering opportunities so staff can raise as much money as possible – matched pound for pound by Commsworld – over the next 12 months."
Janet Haugh, Chief Executive Right There, said: "We want to say a heartfelt thank you to all the colleagues who voted for us to win this charity partnership. At Right There, we rely on the kindness and generosity of our supporters to help us deliver our vision for creating a world where everyone has an equal chance to create a safe and supportive place to call home.
"We can't wait to get started and look forward to working with Commsworld so we can continue to be there for people going through tough times in our local communities."