Businesses of all sizes and from all industries will come together for a special one-day event to encourage North Lanarkshire's business community to embrace the benefits of digital innovation and transformation.
Entitled Accelerate North Lanarkshire – How Digital Can Grow Your Business, the event is organised by North Lanarkshire Council and Commsworld, the leading UK-wide network provider currently transforming North Lanarkshire's digital infrastructure and connectivity.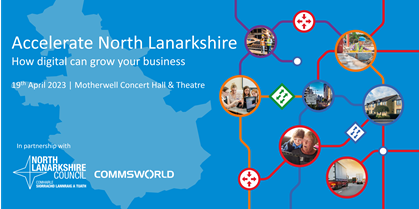 It is free to attend for all businesses and will include presentations from key experts in the digital economy, 5G,  IoT and Cyber Security, as well as from leaders at local government and the NHS.    The event is at Motherwell Concert Hall and Theatre on Wednesday, 19th April.
Guests will have the opportunity to explore how they can benefit from digital transformation through a series of keynote presentations, workshops and breakout sessions from some of Scotland's leading digital industry experts.
There will also be the opportunity to network with fellow attendees over lunch and in the exhibition hall.
Among the speakers will be Dave Hughes, Chief Executive and Co-founder of remote sensor specialist Novosound, and Graeme Reid, Monklands Replacement Project Director for NHS Lanarkshire who will outline how digital transformation can have a massively positive impact not only on businesses and organisations but the communities in which they are based.   
Also speaking will be North Lanarkshire Council Chief Executive Des Murray and Carolann Miller, Head of Pre-Sales at Commsworld, who will detail how the region is well on the way to accessing high-quality, reliable fibre connections, transforming investment opportunities for businesses as well as tackling digital exclusion among its citizens.
In the workshops, SMEs will learn from the likes of data analytics experts Bellrock Technology how to do more with their data through real-time analytics, as well as John Morrison, former BBC journalist and Managing Director of PR and Media Training specialists Morrison Media, on how to manage your PR, social media and crisis communications in the digital age.
National skills agency Skills Development Scotland will address how digitalisation can help address the skills shortage for businesses, while there will also be a showcase of technology and solution providers including 8x8, and New College Lanarkshire SmartHub's collaborative automated robots – or 'cobots'.
Des Murray, Chief Executive of North Lanarkshire Council, said: "This event is an excellent opportunity for businesses across all sectors to hear from innovators and sector experts on how digital and technology can transform their company or organisation. Technology impacts on all of us every day at work and at home, so it's vital we harness its potential to drive inclusive growth. We're proud to be a partner in the Accelerate North Lanarkshire event, which will showcase digital innovation and provide inspiration for the business community across North Lanarkshire, so the region will truly be the best for business."
Bruce Strang, Chief Operating Officer at Commsworld, said: "The Accelerate North Lanarkshire event provides an ideal opportunity for North Lanarkshire's business owners to learn about what the digital transformation currently being delivered by Commsworld across the entire local authority area will mean for them.
"This includes access to enhanced and more resilient connectivity, and an infrastructure network – set to be completed this summer – which will allow SMEs across North Lanarkshire the opportunity to benefit from next-generation smart technology, such as IoT, Cobots and 5G. Our experts will educate them on how to make the most of these benefits, as well as recognising the potential cyber security threats and other pitfalls, and how to overcome them."
Businesses can book their free ticket here