Commsworld has secured a £1.25m contract to provide the digital infrastructure to stage and broadcast the inaugural UCI Cycling World Championships, to be held at multiple venues across Scotland this August.
Commsworld, which has extensive experience of providing scalable bandwidth for major sporting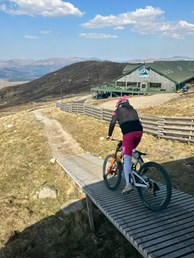 events, will provide the championships with the connectivity and resilience to stream the 11-day 2023 UCI Cycling World Championships, taking place at both indoor and outdoor venues in Edinburgh, Glasgow, Stirling, the Highlands and the Scottish Borders, live across the globe.
The event marks the first time 13 world cycling championships have been held together in one country, with contests ranging from track and para-track sprints and cycling acrobatics to time trials, mountain biking and BMX races.
It will see around 8,000 cyclists compete, more than 200 world champions crowned, and with spectators expected to be around 1 million making it this summer's biggest sporting event.
Commsworld will provide robust, secure and reliable bandwidth of up to 10 gigabits at all the sites – including the Sir Chris Hoy Velodrome and the Emirates Arena in Glasgow, the Nevis Range in Fort William, Stirling Castle and Glentress Forest in the Scottish Borders.
This will not only provide broadcasters across the world, including European host broadcaster the EBU and UK host broadcaster the BBC, with the bandwidth needed to stream championship races live, but also the ability to provide the likes of start, intermediate and race finish timing points needed for each event.
The company will also provide Local Area Network (LAN) capabilities for fan zones in Glasgow and around Scotland, which allows everyone present to access fully reliable and secure on-site WiFi.
Commsworld will achieve this by connecting all sites up to its ultra-fast UK-wide Optical Core Network. This next-generation network was built specifically to provide uniform security, resilience and bandwidth of digital infrastructure the length and breadth of the country.
Connected to all of the country's Internet Exchanges, including Edinburgh and Glasgow, Commsworld operates the network exclusively over Dark Fibre, which allows it to maintain full control and deliver massively scalable bandwidth to keep connectivity fast-flowing and reliable.
Bruce Strang, Commsworld's Chief Operating Officer, said: "We are delighted to have secured the contract to deliver the connectivity for the 2023 UCI World Cycling Championships, which will not only prove a hit with millions of cycling fans across the UK and indeed the world, but also put Scotland on the map as a venue of choice for global multi-events.
"Commsworld has a fantastic track record of delivering secure, reliable and scalable connectivity not only for live streaming events but to event sites. One such recent success was the Euro 2020 Football Fanzone at Glasgow Green, where fans could gather safe in the knowledge they would be able to watch Scotland play on a big screen and also live-stream content on their own devices.
"That's because we have the largest privately-funded Optical Core network in the UK capable of providing a reliable, secure, high-speed network, no matter where people are geographically.
"As a result, we can provide the flexibility to layer on the latest products that can deliver real value and outcomes to events like the 2023 UCI Cycling Worlds."
Trudy Lindblade, CEO of the 2023 UCI Cycling World Championships, said: "We are delighted that Commsworld will be providing the digital infrastructure for what is a historic moment for the UCI, as all the cycling disciplines come together for the single biggest event in the sport's history in August. We look forward to working with Commsworld so that everyone involved in staging, performing in and watching this huge sporting occasion in Glasgow and across Scotland enjoy seamless coverage of events as they happen in real time thanks to the excellent connectivity and resilience that Commsworld will bring."