A businessman and charity ambassador living with incurable cancer is creating a special book of stories of hope that can provide comfort to those newly diagnosed with cancer, thanks to a £6,000 donation from Commsworld.
Kevin Donaghy, from the Scottish Borders, who is living with Stage 4 Metastatic Melanoma, wants to help people who have also been told they have cancer – curable or incurable ­– to realise that they are not alone, and that others understand the challenges they are facing.
Kevin, who has worked in the IT sector for 30 years and runs his own consultancy business, had a cyst removed from his left forearm in May 2018 which had been diagnosed as Stage 2 Melanoma skin cancer. Following the successful removal, he was told the cancer hadn't spread and he was given the all-clear.
But 18 months later he ended up in A&E with what he thought was severe back pain. Following an X-ray and CT scan, he was given the devastating news that the cancer had returned and two tumours had been discovered on his right lung and next to his spine.
Kevin started immunotherapy cancer treatment in January 2020 at Borders General Hospital, which had a limited chance of stopping the cancer from spreading for an undefined period of time. If the treatment didn't work, life expectancy would be less than nine months. Coupled with that, the COVID-19 pandemic struck two months later and Kevin lived every day wondering how he would react if he caught the virus.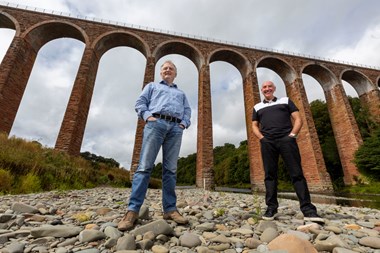 He said: "I know the impact a cancer diagnosis had on myself, as well as others, and the toll it takes on our mental health. I had made the decision to go to hospital on my own , without my wife, which was the worst possible thing I could have done. The oncologist was very softly spoken and extremely polite, but when the hammer blow fell and he told me of the diagnosis, I was enveloped in darkness.
"I then decided I wanted some form of control, so that even though I may have cancer, it wouldn't define me. So I went out and shared my story with others, and I was fortunate to find my hope, in a very unexpected place.
"This made me want to return the favour and share the stories of others ­– patients, relatives, friends, cancer professionals and cancer charities ­– which would touch on the various themes of hope, and in turn give hope to those reading the book."
Kevin's own story of hope came when one customer whom he'd spoken to about his cancer told him his brother in Australia ran a company that specialised in the treatment he was about to receive, and he could get him to speak to Kevin about it.
Kevin went on: "That was what I'd been looking for, some form of hope and my customer's brother gave us that. This search for hope led to me becoming an ambassador with skin cancer charity Melanoma UK. I now help support people newly diagnosed with skin cancer. It gave me the will to keep on fighting – and the idea for the book."
Melanoma UK is a small charity, which has played a vital part in Kevin's cancer journey. The support it has given him, as well as others, has been crucial in the fight against melanoma. He has gone on to become an ambassador for Melanoma UK, a role which involves him helping others come to terms with a new diagnosis.
Gill Nuttall, CEO of Melanoma UK, said: "At Melanoma UK we are very focused on the needs of the people that we support who have been diagnosed with Melanoma cancer. Being able to send people copies of this book free of charge, will help them and their families understand that they are not alone and that there is definitely hope."
Kevin has now gathered 20 Stories of Hope, either through the charity or from personal introductions. Among them is Ricky Nicol, founder and deputy chairman of Commsworld, an Edinburgh-headquartered telecoms network provider.
Ricky recovered from throat cancer after being diagnosed 17 years ago. After hearing of Kevin's plans for a book, Ricky agreed to provide his own story, and Commsworld was delighted to be able to help financially to have Stories of Hope published.
Ricky said: "What Kevin is doing is so inspirational. I am delighted to contribute my own story to his book, and Commsworld are also delighted to be providing the funds for it to be published.
"His book is really important, and could be life-changing for those who read it. When I was younger, cancer was seen as a death sentence. Indeed, when I spoke to the consultant before I was operated on, and asked for my own chances of survival, he admitted they were only 50-50.
"However, he did say that I was relatively young, 44 at the time, so could get the maximum intense treatment, whereas usually patients with throat cancer were much older, and couldn't get through it. I had radiotherapy, chemotherapy and a neck dissection, it was incredibly tough and I was off work for more than a year, and really wasn't well. I wasn't sure at the time I'd ever work again.
"But I did recover, and when I did – having spent a lot of time on the internet during my treatment as I wasn't well enough to do anything else – I realised that Commsworld needed to be more internet-driven rather than purely core telephony. So my cancer journey ended up changing the nature of the business I ran for the better."
Kevin is keen to gather around 30 to 35 stories in total, especially from younger people who have faced cancer. Any future sales of the books will also generate funds for Melanoma UK, who will receive all profits.
He said: "Their contributors stories  will not be shared without their written consent, and with sponsorship from Commsworld, I aim to make this book available free of charge to more than 1,000 cancer patients that have been newly diagnosed with cancer. These will be distributed by Melanoma UK and hopefully other cancer charities.
"I'm really extremely grateful to Ricky and to Commsworld, without them this would not be happening. I hope that once the book is published, it will provide people with the opportunity to feel the love and support of others through the story of their own personal journeys."
If anyone who is suffering from cancer would like to contribute their story, please contact Kevin at storiesofhopeandcancer@gmail.com