An Edinburgh club that supports grassroots football for children in the capital has thanked Commsworld for donating training clothing and footballs to their youngest team – which features budding stars aged as young as five and six.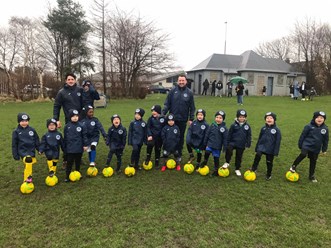 Youngsters in Castlevale Youth Development Club's 2016 squad have been provided jackets, tops and hats as well as balls by Commsworld, whose Edinburgh headquarters is close to where Castlevale play in Jewel Park and Cairntow Park, Craigmillar.
The coaches and volunteers of Castlevale, who provide football training sessions and competitive games for more than 200 boys and girls ranging from the ages of five to 13, were delighted with the donation and said the training gear was very welcome.
Neil Hunter, coach of the 2016s team, said: "We are extremely grateful for the support of Commsworld by providing much needed training clothing and balls to our youngest team. The jackets, tops and hats provided not only make our young players look smart but it brings them together as a team.
"We also train outdoors so this new gear will also provide the players some much needed protection from the elements."
Steve Langmead, chief executive of Commsworld, said: "Castlevale is well known to everyone at Commsworld, their teams play not far from our headquarters in Edinburgh, and we are all really impressed with what they've done to encourage more kids into football.
"Commsworld is all about supporting community organisations in the areas where we live and work, so we are delighted to help Castlevale out by providing the training kit and balls for the youngsters, so they're wrapped up warm.
"It's so important that youngsters of that age have a really positive experience of sport when they're starting out, and we're proud to play a role in helping that happen."
Castlevale Youth Development Club was founded in 2016 and provide football coaching sessions and competitive games for boys and girls across eight football teams. The club's aim is to promote sport and fitness in the local community by developing football skills in children and young people at grassroots level, progressing though the stages of development.
They also strive to instil a sense of belief in the kids that they coach, improving their social interactions by working as part of a team, giving them valuable life skills which will serve them well at school, in their wider community, and later in life.