Since 1994 when Commsworld was formed, one of its founding principles was to actively invest in the local communities in which it worked.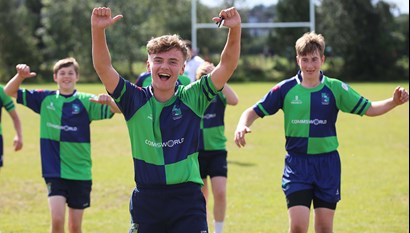 In the years since, the company has been true to its word, including its funding of community rugby projects in the heart of Edinburgh at Boroughmuir Rugby and Community Sports Club.
It's now nearly a decade since Commsworld became a sponsor of Boroughmuir sports charity. In the subsequent years the club has seen a huge upturn in the popularity of the sport among young people.
Such a boost to rugby participation has been thanks to two key contributions made by the UK's largest independent network provider, which has invested a total of over £250,000 into the club.
Commsworld has been a founding sponsor of Boroughmuir Youth Rugby Academy in 2016. As a result, the academy has been able to grow its player base so it now coaches more than 350 young players, aged from five to 18, every week. In addition, the academy supports more than 1,000 young people across three high schools and 14 primary schools every year.
Numbers were further boosted by another fantastic inclusive initiative launched in 2018 that was the first of its kind in Scotland. The Bill Watson Youth Rugby Bursary programme – named after a former Boroughmuir and Scotland back-row forward – provided individual bursaries for aspiring young rugby players from disadvantaged backgrounds so they could flourish in the game by removing any financial barriers that were in their way. 
This covers all costs associated with playing rugby, from membership fees to gum shields, training kit and boots, as well as the cost of going on team tours. In the three years the bursary programme has been running, the number of players supported has grown from three to 11. 
However, both schemes are not just about sowing the seeds of an inclusive rugby culture in the community, they are also about breeding success on the rugby field. This has been demonstrated by Boroughmuir winning the National Shogun league for U13 and U18 teams for the last two years in a row, as well as the U16 and U18 National Cups.
Not only that, but some of the academy's first intake of players are now making their way into the upper echelons of the sport. Three examples are Mike Jones, Cammy Scott and Reuben Moloney.
Mike's ability has seen him go all the way to the Boroughmuir 1st team and now the Heriot's Rugby Super6 squad, Cammy is now playing with semi-pro Borders side the Southern Knights also in the Super6, while Reuben has just been selected to play for Ulster U19 team.
Meanwhile both Mike and Cammy made it to the Scotland squad for the U20 Six Nations, under head coach Sean Lineen, Scotland's 1990 Grand Slam centre who played and coached at Boroughmuir.
David Campbell, Director of Youth Rugby of Boroughmuir, said: "The success of Mike, Cammy and Reuben, as well as Mike and Cammy's national selection, is a huge success story for the Boroughmuir Academy. It shows that not only is the academy making a huge contribution by encouraging children to make rugby their sport, but it is also helping to cultivate the next generation of players for the higher echelons of rugby and the Scotland set-up.
"It has achieved this thanks to the generosity and vision of Commsworld. The financial backing that the company has brought to Boroughmuir has been phenomenal. It has put the club firmly on the map in terms of the popularity of the game in our community, and also encouraged children to take up rugby who would otherwise be lost to the sport. Not only that, but Commsworld has also used its expertise to provide us with amazing new WiFi in our clubhouse. 
"For us though, this is only just the beginning. We are striving to encourage not just young boys but young girls to make rugby their sport, to learn new skills, keep fit and make new friends. The future is very bright for Boroughmuir."
Steve Langmead, Chief Executive of Commsworld, said: "As a company, we recognise the importance of supporting every community in which we work. This can be through providing strong, reliable connectivity to social housing to help tackle digital poverty, offering apprenticeships and work placements, and mentoring opportunities to people from economically disadvantaged areas, or in this case providing financial support to grow the game of rugby in the community.
"Support like this has a huge knock-on effect, not only for the young people themselves who see rugby as a fun, inclusive sport, but also the nation as it reaps the rewards of excellent players coming through the academy system, as Mike, Cammy and Reuben have shown.
"We recently renewed our package of support for a further four years and sincerely hope that more players enjoy the benefits that rugby can bring, and go on to make their mark on the game at both club and international level."