Commsworld's latest key appointment, business specialist Dan Jackson, is used to getting stuck in when it comes to the superfast world of IT and communications.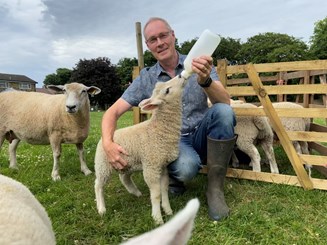 With 36 years of experience as an IT industry specialist, he was recently hired by the UK's largest independent network provider as a Business Development Director, as part of ambitious UK-wide growth plans.
But Dan also combines his work in IT with life looking after animals at his country home near Richmond, North Yorkshire – including grazing sheep, chickens and a dog. This year the chickens literally came home to roost when he had to roll up his sleeves with the birth of eight lambs – including three that needed to be hand-reared.
Working from home due to COVID-19 has meant Dan is now an expert in combining IT and 'farming', which really consists of spending more time with the animals, which include five sheep, eight lambs, 24 chickens and two-year-old Rottweiler Thea.
Dan explained: "We bought a house five years ago with some land and realised we needed something to cut the grass so rather than yet another lawnmower we ended up with some sheep.
"I've just come off an important business call and am now looking out at our field and it really makes me happy to see the lambs running around. It is one extreme to the other, but I wouldn't have it any other way."
Dan has had a hands-on role at the birth of most of the lambs, with the help of a local farmer, and even ended up having to hand-rear three who were rejected.
He added: "I went out to the stables one morning and there was a fully formed lamb running around and another on its way. We didn't even know they were due. Unfortunately, three were rejected by their mothers so we've been hand feeding them, initially every four hours so it was full on.
"I'm always busy at work with new business but being able to do it from home has meant that not only have I been able to focus on my day job, I've also been able to be here for the birth of the lambs – and those midnight feeds."
When Dan's not busy securing new business for Commsworld in the north of England, he's either tending to the animals or at the village green with his wifeAnna selling jam made from fruit in their garden and eggs from the chickens.
Dan has a proven track record in selling business solutions, with the last decade focussing on the public sector, NHS and local government. He is one of a number of recent key hires for Commsworld which secured contracts valued at more than £16.7m across multiple sectors between October and December last year, making it one of the best quarters in its 27-year history.