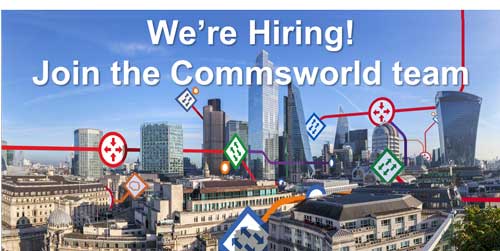 Commsworld is an Edinburgh-headquartered telecommunications and internet service provider. Over the last 25 years Commsworld has gone from strength to strength; we have grown from an industry disruptor to become the operator of the largest privately-funded carrier-grade network in the UK.
We provide connectivity, cloud, security, unified communications and IT infrastructure services to the public and private sectors. Key clients include Taylor Wimpey, BrewDog, Arnold Clark and several local authorities across Scotland including City of Edinburgh Council, Borders Council and Glasgow City Council.
On the back of our continued growth and success we are investing further in our future and are recruiting for new and exciting roles throughout our business.
New Vacancies:
Pre-Sales Consultant
Key responsibilities will be to support the Commercial, Enterprise and Public Sector teams with solution design, pricing and managing bid responses. Experience, with a successful track record in this field, is required.
Product Manager
Commsworld plans to expand its product portfolio so this is an exciting role for a proven Project Manager to project manage the development of new products / solutions from conception to market. You will help maximise business value with analysis of market positioning and engaging with key stakeholders throughout the delivery to drive the business outcomes.
Business Development Director – Public Sector for England
We have a strong track record and enviable market position with Public Sector Authorities - we're looking to do more. As such, we have an opportunity for an experienced Business Development Director to open up and develop new relationships.
HR Generalist
An experienced HR professional is required to support company people programmes, recruitment and talent development as we plan for future growth.
Commercial Internal Sales Representative
This is an exciting opportunity to join the sales team in a desk based sales role. You will manage existing SME accounts working to develop and maintain customers and to support the wider Commercial sales team. An excellent opportunity for the right individual to further advance their sales career.
Commercial Field Sales
You will be a self-motivated professional with a proven track record delivering new sales targets. Primarily responsible for developing new business within the SME marketplace but there will be a component of managing existing customers.
To find out more about these roles, send your CV to martina.corr@commsworld.com and keep an eye out on our careers page for more information.