Commsworld has partnered with retailTRUST, the trade charity for the retail sector and leading UK assisted-living provider, to deliver the country's first major use of smart technology in an assisted-living setting.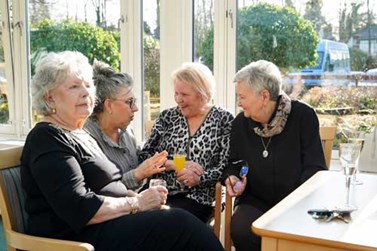 The Edinburgh-headquartered company has rolled out the high-speed connectivity solution across the Hugh Fraser Retirement Estate in Newton Mearns, transforming 120 dwellings into high-tech digitally enabled retirement homes.
The project ensures each home is fitted with top of the range smart technology and sensors, to give residents total control of heating, lighting activation and doorbells – all managed using the Alexa platform.
The new technology provides residents greater independence to control their home as they please without having to lift a finger, often from the comfort of their living room.
Residents can also benefit from a greater range of interaction as they can make telephone calls through the platform, as well as listen to music and the radio.
Commsworld, the leading UK-provider of networking and connectivity solutions, completed the comprehensive roll-out of digital access in February 2020, shortly before the lockdown period. It has therefore proved an invaluable tool for staff to support residents remotely and only attend when urgent, thus ensuring social distancing is adhered to and the safety and wellbeing of residents is retained.
The implementation of technology has been heralded by residents. Gordon, who has been using his Alexa device since the lockdown, revealed: "I get total reassurance that someone is there that I can call upon and I am connected to my relatives, staff and people through my Alexa in these difficult times."
Mags, a resident with multiple sclerosis, scoliosis and asthma had suffered frequent injuries in her previous living arrangement, struggling to handle light switches and manoeuvre around the cramped space in her wheelchair.
Mags said: "I feel I have made the best decision ever coming to the Hugh Fraser retirement Estate. I would recommend it to anyone who is looking for somewhere that is beautiful, staff at hand and you learn new things every day through the digital world. It also takes a lot of heavy weight off my family as they know that I am much happier and in a lovely safe environment."
Commsworld built an extension to its existing modern network and connected this to the internet. This technology is used to deliver super-fast broadband services to residents and provide corporate connectivity to support staff.
Commsworld delivered everything the residents required to get connected including digging fibre to each of the cottages, directly connecting all their living rooms to the rest of the world. This was completed with minimal disruption to the residents and at the same time Commsworld installed high powered Wi-Fi for all.
Ricky Nicol, chief executive at Commsworld, said: "We are delighted to provide this valuable solution to the residents and staff at the retailTRUST Newton Mearns estate in East Renfrewshire.
"At Commsworld, we pride ourselves in providing high level networking and connectivity solutions across a range of sectors, but it gives us a great deal of satisfaction to see the level of independence and joy our work has provided to the retailTRUST residents.
"As it is the first time that a project of this magnitude has been carried out in the UK, we hope that this innovation will be a driving force behind establishing further smart home villages throughout the country. It is the residents that ultimately reap the benefits of a full and fulfilling retirement."
To hear first-hand from the residents, see: https://www.youtube.com/watch?v=qXKShQtMMGc. For more information about the smart homes see: https://youtu.be/8OOnKKOkRO8