Glasgow City Football Club has agreed a trailblazing two-year sponsorship deal to encourage more schoolgirls to dream of becoming stars of the women's game.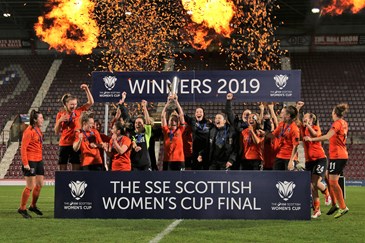 The 13-in-a-row SPFL champions have secured support for their pioneering "Glasgow City Football Club Role Model Programme" from telecommunication giants Commsworld.
It will see Glasgow City stars, including Scotland internationals Hayley Lauder, Leanne Crichton, Lee Alexander and Leanne Ross, deliver talks and coaching sessions to youngsters once the current Coronavirus lockdown begins to ease.
It aims to empower girls and women to achieve their goals, by promoting good health, wellbeing and teamwork.
Glasgow City, who reached the Champions League quarter-finals this year, and had German outfit Wolfsburg in their sights before their season was left in limbo, hope the programme will inspire the next generation of women's footballers in the city.
Interest in women's football has taken off, thanks to Glasgow City's European success and the national team's World Cup qualification in 2019. Now it is hoped that the new programme will help maintain the momentum.
Glasgow City Club Manager, Laura Montgomery, insists there is nobody better for the job than her all-conquering cohort.
The club founder and former Captain said: "The power of role models cannot be underestimated. Sadly we still live in an environment where our elite female athletes are not given the exposure and platform their successes deserve across the media and as a direct result in our culture. This means that young girls are at a significant disadvantage to their male peers. 'You cannot be what you cannot see', is now a commonly used phrase.
"The evidence of the positive effects of visible role models are overwhelming, not just for girls to know what they can aspire to achieve in life, but also for boys to know that women are successful and have an equal and pivotal role to play in society.

"Our club is full of fantastic role models and with this incredible support from Commsworld, we are able to begin our pioneering programme to hopefully make a long lasting impact on the lives of many of the young kids in our community."
Founded in 1998 by Laura Montgomery and Carol Anne Stewart, Glasgow City has been at the forefront of promoting the women's game in Scotland – currently boasting more than 160 girls playing football across nine academy teams from the age of six upwards.
The club currently has nine senior internationalists, with three players each having over 100 caps for Scotland. City also played a pivotal role in the development of now Chelsea midfielder Erin Cuthbert and Manchester United forward Jane Ross.
Glasgow's ability to generate its own talent has been key to its runaway success. But with the women's game becoming increasingly competitive as the likes of Rangers and Celtic turn professional, cultivating the stars of the future has never been more important.
Montgomery added: "Our programme, as well as introducing young girls and boys to the highest calibre of Scottish women's football, will also ensure opportunities for girls to access the sport and perhaps be introduced to it for the first time. This is vitally important, not just for the future growth and success of our game, but also for the health and wellbeing of our future generation".
Ricky Nicol, Chief Executive at Commsworld, said: "We are delighted to be playing our part in this fantastic partnership, which has the potential to be a force for positive change throughout the city.
"The football club's tireless work in the community can be the driving force behind establishing role models for girls in Glasgow and we are excited to see the influence this partnership has in nurturing the next generation of talent.
"Commsworld remain committed to supporting womens football and, as a result, schoolchildren throughout Glasgow will reap the benefits of this brilliant partnership thanks to coaching from Glasgow City stars and free tickets to see their role models in action."