Commsworld has taken a historic final step in its transformation from telecoms disruptor to the UK's largest independent network provider.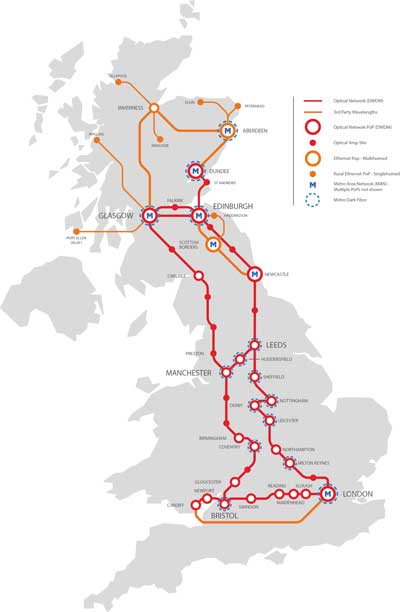 The Edinburgh-headquartered company has completed the last rollout in its nationwide ultra-fast Fluency optical core network, investing more than £10 million.
This next generation network was built specifically for business and has revolutionised the security and resilience of digital infrastructure to organisations the length and breadth of the country – while offering speeds of up to 200 Gigabits per second.
The historic moment took place in Huddersfield with the establishment of Commsworld's last, and 91st in total, Point of Presence (PoP) – part of a £1 million investment in Yorkshire alone by the company after it joined the IXLeeds Internet Exchange last year.
It makes Commsworld the only organisation to connect to all of the country's Internet Exchanges, and linking up major cities like Edinburgh, Glasgow, Manchester, Leeds, Birmingham and London to its network.
Commsworld Managing Director Bruce Strang said: "Adding this final PoP to our network marks the culmination of years of hard work, and is a landmark moment for Commsworld. It means we can offer a unique, more local service to any organisations that want it – a true, cohesive, end-to-end optical network."
Commsworld's network centres around its use of dark fibre. Dark fibre allows for low latency levels, meaning Commsworld manages the process of data transference from end to end. This makes it more resilient, flexible and agile.
However, to allow optical signals to make their way up and down the country, Commsworld needed to position PoPs at intervals of around 80km across it. The rollout of the final Huddersfield PoP in effect means the speed and efficiency of the network can be maintained uniformly across all of the UK, vital to the network's success and efficiency.
Bruce Strang added: "This has been one of our main objectives and we have achieved it. It means businesses are not limited by their location – they will have access to uniform speeds of up to 10GB. We are very much looking forward to seeing dramatically faster and more robust connections flourishing across all parts of the UK."
Commsworld chief executive Ricky Nicol said with the completion of the optical core network, Commsworld stands ready to bring its benefits to new areas south of the border – especially rural areas suffering from poor internet coverage.
He said: "Access to excellent internet connections, whether for domestic customers or business customers, is fast becoming a human right.
"To add this final PoP to our network in Huddersfield in a tremendous achievement. This makes us unique and means we can provide a more local service than many of our rivals.
"We firmly believe every corner of Britain should have access to the same ultra-fast connectivity as businesses in the big cities like London, Leeds and Edinburgh."