Derby businesses can now access bandwidth speeds 450 times faster than UK average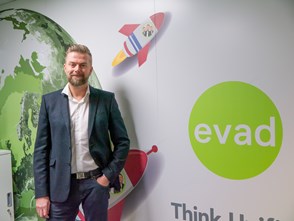 TWO leading telecommunications network and services providers have joined forces to bring long-awaited super-fast connectivity to the heart of the Midlands.
Commsworld has now unbundled the Derby telephone exchange, meaning it can now connect businesses to its vast Optical Core network - enabling unparalleled connectivity in the region utilising fibre in the ground.
To reach businesses in the region it is partnering with locally based EVAD (Ethos Voice and Data), marking its first wholesale partnership south of the border, after demonstrating the transformative impact of similar collaborations across other regions.
EVAD will in turn be able to include the new network as part of its offering, with local businesses now able to access affordable connectivity of up to 10GB/second – up to 450 times faster than the average UK connection.
Another potential impact on organisations in Derby will be the ability to flexibly scale and downscale connection options as needed, something which Commsworld has previously delivered to businesses and events spaces in the UK.
Commsworld Partner Manager, Dietmar Wand, said: "We're an independent business ourselves and thrilled to be able to give Derby businesses access to some of the best connectivity around.
"EVAD already boasts a strong reputation in the region. The partnership is a great fit - and should go on to deliver extensive benefits to the region.
"We know that connectivity is becoming a key driver for businesses looking to relocate, or remain in a location.
"Our hope is that the opportunity to access our business and public-sector exclusive network will drive further investment and job-growth which are critical during times of uncertainty."
Having recently become the official telecoms supplier of Derbyshire County Cricket Club (DCCC), EVAD and Commsworld hope that their flexible services will bring about further business collaborations across the county.
EVAD offers a broad suite of ICT and communications solutions. Matt Hill, the firm's Chief Executive, said: "I've lived in Derby my whole life so naturally I'm very excited about the opportunity to bring wholesale changes to the city's connectivity.
"Combining our world-class service with this incredible network is going to really raise the bar in terms of what business in Derbyshire can achieve."
Commsworld's past has shown that they are no stranger to success in local partnerships, as teaming up with Borders firm GB Technologies Ltd has proven.
The pairing was behind the long-awaited network infrastructure which brought business connection speeds across the Borders in line with the fastest available in Edinburgh and Glasgow.
Its network has also enabled a raft of community broadband schemes throughout the country to achieve ultra-fast connectivity in remote regions.