Commsworld Unveils Transformed Edinburgh Office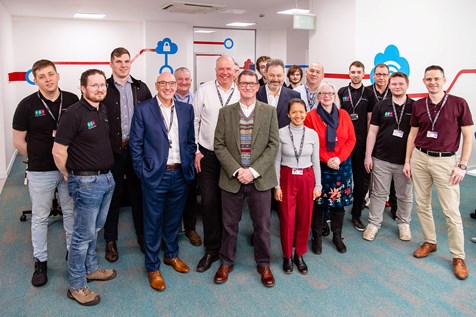 Commsworld is celebrating the completion of an extensive £40,000 office refurbishment that will enable our team to build on recent expansion.
Essential Cloud Solutions (previously Edinburgh Computer Services) unveiled its newly-refurbished office in Edinburgh with Scottish National Party Councillor David Key in attendance.
In a move that saw its entire team working remotely, the recent refurbishment provided the perfect opportunity for ECS to stress-test the strength of its operations and disaster recovery options.
ECS, which launched in 1991, was acquired and rebranded by Commsworld in 2018 to enable immediate expansion and ambitious new business opportunities.
After nine years in the same office, Commsworld and ECS took the decision to invest in overhauling the 2,800 sq. ft space to enable further growth, including the addition of two new employees, and a lab which is used to bench test equipment.
Willie Fairhurst, Managing Director of ECS, said: "With any acquisition it's important to feel part of the bigger picture – refurbishing our outdated offices makes the team feel part of the Commsworld family.
"During the refurb, we were able to send some staff to the head office while others worked from home which meant our clients and workload weren't affected – it was also the perfect opportunity to ensure our disaster recovery options are as effective as possible!"
With the takeover, the team lost no staff which allowed for an immediate focus on expanding the firm's client base – as well as continuing to focus on maintaining strong client relationships.
Willie added: "Not only does a new office make the team feel fully part of the Commsworld group, it also allows us the space and capacity to grow our team.
"Our move into the Commsworld family has brought so many new and exciting opportunities, like working on bigger contracts including projects with local authorities in Glasgow, Edinburgh and the Scottish Borders – which we previously wouldn't have been able to."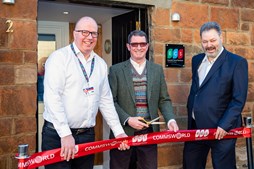 Councillor David Key said: "It's always great to see companies embracing their commitment to becoming greener - ECS has its own high-quality ventilation system and only runs low emission vehicles, which are both really positive steps in becoming more sustainable.
"I was also speaking with Willie, who said the team are actively encouraged to cycle or run to work as well, and they have put in showers and changing rooms to facilitate this. It's been a pleasure to visit and see first-hand the great work the team are doing."
In line with ECS and Commsworld's commitment to creating a greener environment, which includes electric vehicles and a commitment to zero-landfill status respectively – all of the new office furniture is recycled.