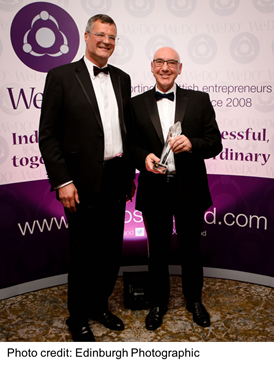 THE CEO of a telecommunications firm that counts many of Scotland's biggest and most exciting organisations among its clients has been recognised with a lifetime achievement award.
Co-founder of Commsworld, Ricky Nicol picked up the headline accolade at the WeDo Scottish Business Awards, in recognition for his inspiring story overcoming cancer while leading the firm which has expanded from humble beginnings.
Since the launch in 1994, Ricky has overseen a transformation of the business via organic growth and acquisitions into a major player in an industry seen to be dominated by major household name organisations.
The firm recently celebrated its most successful year to date with revenues projected to break through the £20 million barrier - a 41% increase on the previous year, along with a threefold growth in profits – along with major expansion plans south of the border.
Ricky said: "I'm honoured, humbled and gobsmacked!
To win a lifetime achievement award in particular, in a room full of esteemed and successful people from across Scotland's business community, is particularly surreal and not something I'll forget in a hurry.
I work within a brilliant team of colleagues at Commsworld – and while it sounds cheesy, this award really is testament to the people I've been fortunate to surround myself with."
Belinda Roberts, Founder of WeDO Scotland, said: "We are thrilled that Ricky is the very worthy winner of our 2019 Lifetime Achievement Award which was unanimously voted for by our Executive teams. 
"He is a shining example of a successful Scottish entrepreneur who isn't afraid to take risks and go head-to-head with much larger competitors.  The contribution that Ricky has made to the Scottish economy and entrepreneurial community has been outstanding over the past 25 years and we're delighted to give him this well-deserved accolade. 
"He has to date and will continue to be, an inspiration to so many Scottish businesses which he manages to achieve despite his humility.  He leads by example and must also be recognised for his exemplary leadership skills and the importance he places on his teams and open door policy at Commsworld."