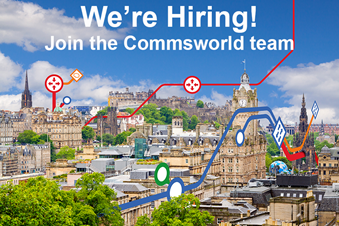 Commsworld seek an additional PreSales resource to support our ever expanding solutions portfolio, extending geographical reach and growing client base.
The role is primarily to support the Sales routes to market across all sectors in designing and pricing the more complex multi-disciplined solutions our clients require.  As such there are a number of personal, and technical skills and knowledge that we see as important and note that we prioritise the personal aspects higher than technical ones.  We believe that given the right candidate, attitude and behaviours are more important as technical knowledge can always be learned.
Whilst we list a very wide range of desired technical knowledge, we recognise that we will not find an individual with all of these.  We do list them in preferred order, but the personal attributes still take priority.
Personal Attributes –
Professional behaviours and approach.
Strong communicator to groups and senior client contacts.
Flexible and controlled work ethic.
Strong Office skills with Excel, Word and PowerPoint.
Proven high standard design outputs.
Technical Capability -
ICT / Applications knowledge.
Cloud solutions.
Security solutions.
LAN / Wi-Fi solutions.
WAN solutions
Voice solutions.
You would be joining an existing team with a strong track record of supporting the largest and most successful contracts in the company's history.  Commsworld is a fast growing organisation with a very high profile and seen as a disruptive provider into the larger Enterprise and Public Sector marketplaces.
Salary will be based on market rates and the individuals experience levels.  Commsworld also include laptop and Mobile phone as part of the tool kit.
To apply for this role, please submit your CV and cover letter.