"A UNIQUE set of opportunities" has encouraged City of Edinburgh Council's CIO and Head of ICT to join Scotland's largest independent telecoms firm.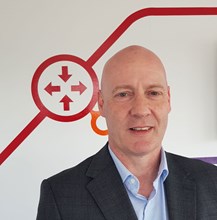 Bruce Strang is the latest industry big-hitter to join the board at Commsworld as it looks to consolidate recent expansion and plot the next stage of its business growth strategy.
Joining as Executive Director of Operations, his appointment is hot on the heels of its takeover of ECS to become a £20million+ revenue business – and the recruitment of Steve Langmead and John Bennett as Non-Executive Directors.
Having been familiar with the firm for many years, Bruce recently experienced Commsworld's work through its delivery of a 150km wide area network (WAN) and telephony solution as part of the City of Edinburgh Council ICT contract.
He said: "The stars seem to be aligning for Commsworld, as most competitors of a similar size have folded or been acquired. Put simply, nobody out there is as fleet of foot and able to adapt to what the market wants.
"Yet it has taken a huge amount of hard work and ingenuity to get there. The recent success with large-scale public sector contracts have seen it transform as a business.
"My role will be multifaceted as a result – and I'm excited to be working across so many different areas of the business.
"I know from my previous role the challenge that Commsworld faced in Edinburgh - but was deeply impressed with the delivery of the WAN and the telephony product."
Before joining the local authority, Bruce was best known for climbing the ranks at outsourcing giant Capita, which included roles as Managing Director of Updata, taking responsibility of a team exceeding 500 people and accountable for profits and losses.
He also oversaw Capita's Scottish Wide Area Network (SWAN) framework, resulting in a deal worth an estimated £325million to deliver public sector telecommunications across the country.
Bruce added: "Speaking to Ricky and the team at Commsworld and it's immediately evident that he wants to do things that nobody else in Scotland can even entertain, building on its recent milestone deals.  
"I'm really excited to get started and add my commercial and public sector experience to a brilliant team – and begin to take advantage of a unique set of opportunities."
Speaking of the appointment, Ricky Nicol, Chief Executive of Commsworld, said: "To be able to attract somebody of Bruce's standing to Commsworld is a real moment in time for us.
"His CV is outstanding. With his technical background, he's developed into a proven leader who has delivered at the very top, in challenging roles at private and public sector organisations.
"That experience will be a huge boon for us – and Bruce will immediately look at our delivery of the £30million Glasgow City Council ICT contract."