ONE of Scotland's longest established IT firms has been taken over by the nation's largest independent telecoms firm.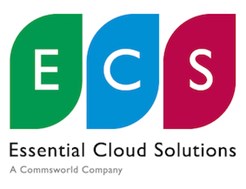 Commsworld has acquired ECS (previously Edinburgh Computer Services) and immediately re-branded it to become ECS - Essential Cloud Solutions, a name that properly captures the enhanced, nation-wide cloud portfolio across both organisations.
ECS, which launched in 1991 and now boasts a 19-strong team will face no staff losses with the takeover allowing for an immediate focus on expansion within each firm's existing client base - as well as ambitious new business opportunities.
The acquisition is a significant step forward for both businesses and allows Commsworld to now lead with a cloud and connectivity suite of solutions including cyber security, Wi-Fi and IT.
It makes for a completely unique offering within Scotland and means that the Edinburgh-headquartered firm's superfast network is complemented with full Microsoft solutions and accreditations, essentially 'taking Commsworld to the desktop'.
Ricky Nicol, CEO of Commsworld, said: "This is a real game changer for both organisations and offers a host of exciting opportunities.
"The acquisition comes from a constant demand from clients for fully integrated digital solutions and means we are taking these Cloud solutions and IT skills to our client base."
"This development further enhances our Partner Channel offering as it expands the range of services we provide."
"We can now take our excellent network services to the desktop and add that extra layer of security, simplicity and service for our clients."
The move takes Commsworld to more than 100 members of staff and will deliver revenues well in excess of £20m in 2018.   The acquisition deal means the indigenous SME is the largest independent player in the market – and opens up new opportunities for further business growth.
Willie Fairhurst, Managing Director at ECS, said: "With more than 27 years' experience in Scotland's digital sector, we of course knew Commsworld's work well and indeed have a number of mutual clients.
"The deal means that our accreditations are brought across to Commsworld to enhance its expertise, while our existing customers will be introduced to the fantastic services they offer.
"I'm excited that we'll now be able to bring top level security, that was previously only available to massive companies, to much smaller Scottish businesses who also require to keep data safe."
ECS has many clients including household names particularly from the recruitment and hospitality sectors and provides its services throughout Scotland.