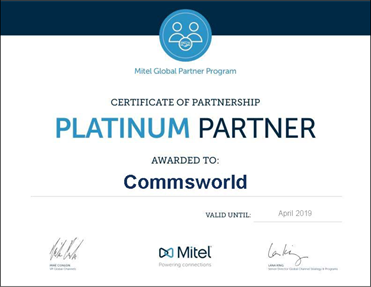 Commsworld are thrilled to announce that we have been awarded the Platinum Partner status by Mitel, the highest accreditation they offer and making us one of a select few Platinum Partners in the UK.
 
Mitel, a global leader in business communications with over 40 years of experience hold the #1 market share leadership position in Europe.
 
This accreditation is testament to our success deploying Mitel solutions throughout the UK, our technical capabilities and our range of Voice solutions.
 
This accolade comes on the back of our £30 million contract with Glasgow City Council to be a key provider within their recent ICT contract and that follows previous successes in The City of Edinburgh Council and the Professional Services Sector including Legal, Banking and Financial Services.
 
The Glasgow City Council project is the UK's largest Cisco displacement programme delivering a new Hosted Mitel IP Telephony solution to over 16,000 users in addition to a full-blown Multimedia omnichannel Contact Centre with a self-service IVR supporting 570 Agents.
 
The previous City of Edinburgh Council contract has been deployed to over 10,000 users plus a 300 Agent Contact Centre also with a complete Multimedia omnichannel capability.
 
Commsworld now have over 35,000 Mitel Voice users and over 1,000 Contact Centre Agents all resiliently hosted within the Commsworld Private Cloud and connected over our Fluency Next Generation Network.
 
Ricky Nicol, Commsworld CEO said "This is a fantastic achievement for Commsworld, Mitel is a longstanding Partner and it's great to see our hard work being recognised and awarded.  We have been at forefront of selling Mitel's industry leading solutions and look forward to continuing our partnership for years to come."
I am delighted to announce Commsworld have achieved Platinum status in Mitel's Partner Programme, recognising the highest level of expertise in defining and delivering exceptional communication and collaboration solutions with our customers.
Richard Roberts, Vice President, UKISA Sales commented:
"Working in partnership with Mitel for over 17 years, Commsworld have addressed the communication needs of a wide range of businesses who were looking to transform the ways in which they work with the colleagues, their partners and their customers. They have established themselves as a valued supplier to Public Sector organisations across Scotland, working in partnership with Mitel to understand their challenges to provide tailored solutions that consistently deliver the cost savings and productivity benefits that they require.
I would like to congratulate the Commsworld team on their achievement, thank them for their ongoing partnership, and I look forward to celebrating our continued success together."