Gifford High Street successfully connected to ground-breaking network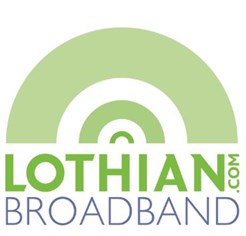 A RURAL village in East Lothian has become the unlikely location for some of the fastest internet speeds in the UK thanks to a pioneering new broadband initiative. 
Locals in Gifford can now benefit from the possibility of ultra-fast fibre-to-the-premises (FTTP) connections, as opposed to relying on miles of antiquated copper cables - the cause of slow networks throughout Scotland.  
However, Humbie-based Lothian Broadband is now offering those in the village speeds equivalent to the fastest connections in major cities - and has now successfully installed pure-fibre into a number of the village's homes.
It has been achieved by working with Scottish telecoms firm Commsworld – and its vast Fluency network – which Lothian Broadband connects to, allowing its network to join with the wider world. 
As a result, residents can achieve speeds of 500Mb per second and beyond, compared to a UK average speed of 16.5Mb per second.
Nic McCormick, Managing Director of Lothian Broadband, said: "This has been a great partnership.  The difficulties in getting access to ultra-high speed backhaul to the internet in rural parts is the main barrier for us undertaking projects like this.  
"With Commsworld using its national network capability to give us all the bandwidth we need, we were able to dig the last piece into the homes and businesses of Gifford.
"Less than 3% of the UK has fibre internet[i]so to have it in East Lothian is amazing and we're keen to roll it out in other areas of the county following the success in Gifford."
He added: "We've completed phase one making the service available to everyone on Gifford High Street.  
"This phase was built in partnership with Yester Estate as the anchor customer to get the project off the ground. We're now planning phase two where we hope to deploy innovative construction techniques allowing us to reach many more properties. 
"With our extensive radio - and now fibre coverage - in East Lothian, we've identified the demand is there and this better connection not only provides residents with the best service possible, but also means local businesses can compete on a level playing field."
Lothian Broadband now plans to expand its work into Midlothian and deliver its ultra-fast broadband connections in other areas where the large providers have failed to deliver.
Charlie Boisseau, CTO at Commsworld, Scotland's largest telecoms firm, said: "We firmly believe there's a huge opportunity for innovation and disruption in the telecoms space, which is why we do everything we can to support local providers such as Lothian Broadband.
"While Lothian Broadband and others have been doing great things with fixed wireless technologies for some time, we're hugely exited to be helping get more fibre in the ground and into homes and businesses.
"Gifford is now one of the best-connected villages in Scotland and it is testament to the great work carried out and goes to show the results possible in less populated areas with a collaborative approach. 
"There's no reason why full fibre broadband shouldn't be delivered to areas such as Gifford and we're excited about the partnership going forward into other areas."
[i]https://www.ofcom.org.uk/about-ofcom/latest/media/media-releases/2018/new-rules-boost-full-fibre