TWO business heavyweights have joined the board at Scotland's largest independent telecoms firm as it prepares for further expansion.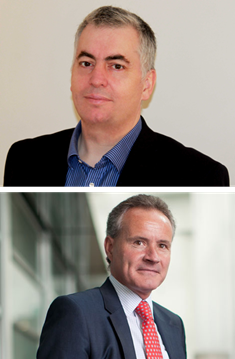 Former Senior Vice President of Atos and Chief Executive of Capita Scotland, Steve Langmead will join as a Non-Executive Director in an outward-looking role to help the business achieve the next stage of its growth.
He will be joined in a similar capacity by John Bennett, Director with European Equities at Janus Henderson Investors and a Non-Executive Director with Rangers Football Club. Both join shortly after Commsworld announced record growth figures exceeding £15million.
Steve, who also chairs Brightwater Services and is on the board with both the National Trust for Scotland and YoungScot, cited the importance of public good as a key motive for taking on the role.
He said: "The fundamental reasons for me joining are the great people behind the firm and the sheer amount of good it is doing for Scotland's businesses and essential public services.  
"Ricky and his team were savvy during the recession – and in the years following have built up an incredible business by doing things honestly and properly, providing value and delivering exceptional service.
"That has in turn provided the business with the platform to work closely with local authorities and that is making a real difference to people's lives. For one thing, it is transforming the way kids are learning.
"Bringing ultra-fast network speeds into schools and libraries will not only bring those benefits to individuals, but it will have an immeasurable impact on Scotland's future prosperity."
The duo, who offer combined c-suite experience of more than 40 years, will add to an already formidable board that includes Ian Blackford MP, the SNP Parliamentary Leader. 
John, who started his career with Clydesdale Bank, believes the best years lie ahead for the telecoms firm.
He said: "I've had connections and dealings with Commsworld for years and the business has changed enormously in that time.
"What really impressed me in the early days was the way it managed the regression of the telecoms industry while rivals went under - but they survived this tricky period.
"They didn't overspend, they were cautious, distrusted leverage and knew the importance of a strong balance sheet. This is essential for customers as they like to know they're dealing with a business that will stand the test of time.
"I firmly believe that the best is yet to come for Commsworld even after the remarkable last year.
"They've been able to transition really well, serving the SMEs really well, as well as those in the public sector at a time when others simply aren't doing so."
Speaking of the board appointment, Ricky Nicol, Chief Executive of Commsworld, said: "To land two titans of industry in Steve and John is a coup and we're thrilled to have their experience to draw on.
"We're at such an exciting juncture for the business and at a point in time where we are able to plan further into the future than ever before.
Commsworld's work on the seven-year Glasgow City Council's ICT contract, announced in early 2018, will see it now play a major role in transforming Glasgow into one of the world's most digitally advanced cities.
It will deliver a greatly enhanced Wide Area Network of ultra-fast pure-fibre connectivity, as well as rolling out an IP Telephony solution for more than 16,000 council users and a 550+ seat Contact Centre.
The £30million deal follows on from similar contracts with City of Edinburgh Council and Scottish Borders Council.