Commsworld, a Scottish independent firm has positioned itself shoulder to shoulder with industry tech giants by investing £1m+ in establishing its own pure fibre telecommunications route to link networks in Glasgow and Edinburgh.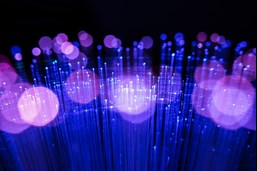 In doing so, Commsworld has become the first Scottish business of its type to boast its own inter-city 'carrier' fibre network – an ultra-fast connection between Scotland's two largest economic hubs, operating at up to 100Gb/s, 5000 times the speed of an average UK broadband connection.
Typically, independent telecommunications firms lease bandwidth on the top of other carrier networks – these are major network infrastructures connecting large geographic areas which tend to be owned and operated by corporations such as BT, Virgin Media and SSE.
But now Commsworld is to offer a service, like its big brother rivals, after it applied its specialist DWDM (Dense Wave Division Multiplexing) technology to 'light' a span of dark fibre at practically unlimited capacity.
Chief executive of Commsworld, Ricky Nicol, said: "This is a major and exciting step forward for our business as it means that an independent Scottish firm is operating this level of infrastructure rather than it being the preserve of the biggest industry names.
An easy way to think of the inter-city fibre is as the digital equivalent of a major motorway, which is connected at each end and at certain points along the route by regional networks, at exchanges.
We now have full control over speeds, from the business connection, the local network, to the exchanges and beyond – it means clients with offices between Edinburgh and Glasgow can experience some of the fastest network speeds around."
The new 80-kilometre dark fibre span Commsworld have procured and lit exists between two of Scotland's highest performing data centres, the recently launched £200million Fortis datacentre in North Lanarkshire as well as Pulsant's datacentre in western Edinburgh.
This allows the Edinburgh headquartered firm to offer customers on its network, ultra-fast, reliable and secure network access between the two facilities, which may be used for mass data replication in real-time, as well as wholesale access for other communications providers.  Commsworld is now able to deliver massively reduced overhead costs to its datacentre customers and offer almost unlimited scope for growth in an increasingly data-reliant world.
Ricky added: "We are enabling some of Scotland's top legal outfits, tech firms as well as life sciences and public sector organisations to do incredible things on our network.
"This milestone in the business is a source of huge pride and finally proves that there is an alternative model to the biggest names."
Chief Technical Officer at Commsworld, Charlie Boisseau, believes the firm is developing a highly exciting network in a sustainable way, and can stand alongside the biggest industry names.
He said: "Over two decades ago we witnessed a series of firms, such as ntl, Telewest and Atlantic Telecom investing and physically installing massive new duct and fibre networks, but without the ability to drive returns on that technology – leading to eventual collapse and consolidation of the industry.
"This left a gulf, between the handful of large telecoms operators and very small ISPs or resellers of largely BT infrastructure. That leaves business customers with a very limited choice – and tied to their pricing structures.
By procuring long term leases of dark fibre already in the ground and applying our own technologies over that fibre, we have further control over costs and speeds, from the customer connection through the city network and even beyond. 
It's now possible for a Commsworld customer to receive a connection between these two cities that we can honestly guarantee does not traverse any 3rd party equipment at the optical level. 
While that may not surprise people who know of our technical capability, it is a mean feat for a provider of our size.
The exciting thing is that this is just the start. We are already looking to establish further long-haul dark fibre routes, including options to provide a secondary Glasgow-Edinburgh network as we look to become a telecoms operator of real scale."