Commsworld is playing a key role in the positive transformation of the Scottish Borders economy, by updating the area's outdated network infrastructure and making it accessible to local businesses and organisations blighted by slow networks.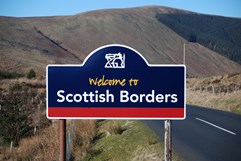 Commsworld, has been awarded a multi-million-pound contract with CGI – to provide its services alongside the landmark ICT deal with Scottish Borders Council.
The collaboration will result in a vast number of local benefits, with businesses, libraries, schools and council buildings set to benefit from the network.
Commsworld has also committed to ensuring an immediate positive impact - with work now well underway to upgrade the network infrastructure in Galashiels and Hawick by 'unbundling' the local exchanges, allowing multiple telecommunications operators to use connections from the telephone exchange to customer buildings.
The investment will allow for more cost effective, better performing and higher bandwidth speeds to the Scottish Borders.
This major change is something that Commsworld Commercial Director, and Borders native, Andy Arkle believes will have transformative long-term outcomes for the area.
He said: "This project is a genuine game-changer for the Scottish Borders and will finally see the network infrastructure able to compete with UK city networks.
"Commsworld has already delivered a similar project in Edinburgh for businesses and the City of Edinburgh Council, delivering fantastic benefits across the City."
Announced in March last year, the CGI contract with Scottish Borders Council has been described as the most significant inward investment proposal the region has ever known.
The 13-year contract will provide the authority with vastly updated technology to deliver its customer services.
Expected to inject more than £100m into the local economy the deal will establish a Scottish ICT Delivery Centre of Excellence within the Scottish Borders to support its growing client base.