Celebrated arts venues and theatres across Edinburgh embrace the Digital Age as the city continues to connect to its new full-fibre network.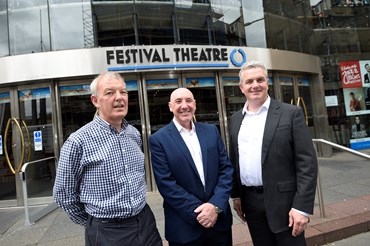 Edinburgh's world-renowned cultural scene has even more to celebrate this World Theatre Day, as arts spaces across the city receive a 21st century boost thanks to investment from leading pure fibre infrastructure provider, CityFibre.
Five of the city's top theatre and arts venues are now connected to Edinburgh's 150km Gigabit City network, providing audiences, festival goers, tourists, production teams and staff with access to ultra-fast digital connectivity.
This, in addition to the recently announced plan to build a new 1000-seat home for the Scottish Chamber Orchestra in the new town, is set to boost Edinburgh's growing reputation as a top city for culture, events and conferences in Europe.
The Kings Theatre, Out of the Blue, Edinburgh Book Festival, Festival Theatre and Queens Hall are amongst the hundreds of businesses and organisations including Edinburgh City Council to secure connections to CityFibre's network in partnership with specialist provider Commsworld.
James McClafferty, CityFibre's Head of Regional Development in Scotland, commented:"Edinburgh is at the heart of Scotland's culture and events scene, attracting thousands of performers, festivals and conferences throughout the year. This in turn generates millions of pounds in income for the city, so it's vitally important it remains able to compete with other high-profile locations across Europe.
"CityFibre's new Gigabit City network is certain to support the industry's ever growing reliance on online services and facilitating their visitors' demand for connectivity. The Festival Theatre, for example, utilised our infrastructure during this year's Edinburgh festival. At one event in particular, over 800 guests using multiple digital devices were able to access its public WiFi network, enjoying fast and reliable connections without difficulty."
Harald Tobermann, Finance Manager at Out of the Blue, added: "As an early adopter of "the cloud", we are aware that the requirements for running a successful creative space have changed over the last decade. This is partly due to continuous advancements in technology, partly to the growing and diverse expectations of our customers – artists and makers, class and meeting organisers, performing artists, exhibition and event curators, as well as visitors to our popular Drill Hall Arts Cafe. Connecting to CityFibre's network is a good way to meet these expectations and allows us to continue to run a successful, sustainable creative space in Edinburgh."
Ricky Nicol, CEO at Commsworld said: "In terms of Edinburgh's commitment to embracing the Digital Age, this burst of art venues and theatres connecting to the network is hugely encouraging. It also proves that it's not just tech firms aggregating the demand for faster speeds and greater capacity across the city, which people might expect. It is great to see a sector traditionally associated with the iconic culture and history of Edinburgh advocating the benefits of this revolutionary technology."
Comprising 100% fibre infrastructure, Gigabit City networks support the Scottish Government's digital vision by providing scalable, future proof, ultra-fast pure fibre broadband access for the benefit of all. CityFibre's Gigabit City footprint now covers four Scottish cities (Edinburgh, Aberdeen, Glasgow and Stirling), benefiting mobile networks and thousands of businesses and public sector sites including schools, libraries, offices and hospitals.