Scottish capital to be transformed into country's largest Gigabit City thanks to CityFibre and Commsworld partnership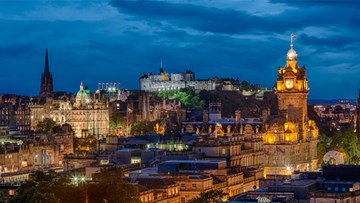 London and Edinburgh, 03 March 2015 – Leading network infrastructure provider CityFibre today confirmed it will build a 150km, ultra-fast, pure fibre network in Edinburgh. The project will be CityFibre's largest Gigabit City investment and its second in Scotland. It has been made possible by a partnership with Commsworld, a leading Edinburgh based network service provider with a 20 year history.
The city-wide, fibre network will transform Edinburgh's digital infrastructure, enabling gigabit speed, world class connectivity – a stated aim of the Scottish Government – and dramatically accelerating its digital capabilities. It will also future-proof the city as the thirst for greater bandwidth continues to grow exponentially over the coming decades. 
Commsworld's expertise and large existing customer base in the city will ensure Edinburgh businesses will be the first to benefit. CityFibre and Commsworld have estimated that the first phase of deployment, 50km of network focused on central Edinburgh, will bring gigabit speeds, up to 100 times faster than the UK's average, within reach of over 7,000 businesses. 
Construction will commence this summer and initial planning is already underway. As with CityFibre's other Gigabit City projects in Coventry, Peterborough, York and Aberdeen, the network will be deployed in-line with the company's 'Well Planned City' model. This design approach accommodates current and future capacity requirements from the business community, public sector, mobile operators and datacentre providers. Ultimately, the network could form a backbone for a future deployment of a gigabit-capable fibre to the home access network.

Greg Mesch, CEO at CityFibre said: "CityFibre has gathered considerable pace in the last 12 months and we are delighted to be embarking on our biggest Gigabit City project yet, which underlines the scale of our ambition. With thriving financial, tech and media sectors, Edinburgh's businesses are poised to take advantage of a digital head-start, providing them with a competitive advantage at home and abroad. We are seeing huge demand for ultra-fast connectivity and as we continue this shift from manufacturing to service based economies, a modern digital infrastructure could not be more critical to a city's success.

"Commsworld is a perfect partner with which to transform Edinburgh's digital landscape and we look forward to demonstrating the capabilities and contribution of next generation infrastructure to both the public and private sectors."

Richard Nicol, Commsworld's CEO said: "As a company constantly looking for new ways of improving communication solutions for businesses, we are hugely excited to have partnered with CityFibre to bring the benefits for pure fibre connectivity to our customers and to the City of Edinburgh as a whole. Ultra-fast, gigabit connectivity appeals hugely to digitally dependant businesses and this is only going to grow with time. It will soon become the standard, driving productivity, innovation and the bottom line."

John Swinney MSP, Deputy First Minister and Cabinet Secretary for Finance, Constitution and Economy said "I am delighted to welcome CityFibre's substantial investment in Edinburgh's digital infrastructure. The future-proofed fibre infrastructure that will be delivered, alongside CityFibre's recently announced investment in Aberdeen, will make a key contribution to our vision of Scotland having world class digital connectivity by 2020.
 
"CityFibre's partnership with Commsworld, a respected and established Scottish digital business, will support the growth of Edinburgh's thriving business community as well as other bandwidth hungry organisations in the city. Over time, this future-proof infrastructure will support the roll-out of ultra-fast Fibre to the Premises services for residential customers as well as 4G and 5G services. 
 
"As Scotland's largest Gigabit City, Edinburgh will have a unique selling point as one of the foremost digitally connected locations anywhere in Europe and we are delighted to see CityFibre continue its investment in Scotland."
CityFibre Media Contact:

Michael House at FieldHouse Associates 
michael@fieldhouseassociates.com 
+44 (0) 7958336475

Commsworld Contact:

Brian Lewis at Holyrood Partnership
brian@holyroodpr.co.uk 
+44 0131 561 2249

About CityFibre
CityFibre enables gigabit connectivity through designing, building, owning, and operating fibre optic network infrastructure. It is the largest independent provider of fibre infrastructure to mid-sized cities and major towns across the UK, providing gigabit-capable infrastructure for enterprise and public sector organisations, service providers, mobile network operators and businesses.  


The Company owns and operates 490 route kilometres of local access networks serving over 800 customer locations in 60 towns and cities in the UK, including York, Coventry, Peterborough, Huddersfield, Hull, Sheffield, Newcastle, Dundee, Bath, Derby and Doncaster.

To date the Company has launched four Gigabit City projects in York, Peterborough, Coventry and Aberdeen, where city-wide pure fibre networks known as 'COREs' bring world-class Internet connectivity and the benefits of gigabit speeds to every aspect of the city's community. The CityFibre COREs are deployed using the Company's Well Planned City (WPC) design philosophy, in which its city-wide core fibre infrastructure is designed with thousand-strand fibre cables in dual ducts optimally routed to serve the present and future demand of the public sector, mobile base stations, business park estates, and ultimately designed to serve as feeder and distribution network for Fibre-to-the- Home deployments. 

CityFibre is also a proud member of a joint venture with TalkTalk and Sky. Established in early 2014, the collaboration aims to prove the viability of gigabit speed Fibre-to-the-Premises (FTTP) networks and services for homes and businesses. Work is currently underway to connect tens of thousands of homes and businesses in York to a future-proof FTTP modern digital infrastructure.


About Commsworld 

Commsworld, founded in 1994, is Scotland's leading Telecommunications Network Services provider, providing customers with a full range of integrated communications solutions.

Commsworld have invested heavily in our state-of-the-art Fluency network which spans the length and breadth of the UK that is designed to deliver low latency Wide Area Network performance to our clients.  With a strong client base and pedigree in the total communications solutions portfolio, supported by excellent Service and Support and ISO accreditations, Commsworld are ideally positioned to enable businesses to achieve growth through the adoption of super-fast connectivity.