A Scottish firm is advancing its aggressive plan to attack the big players in the communications industry by 'unbundling' more data network exchanges to give local businesses a greater choice of services.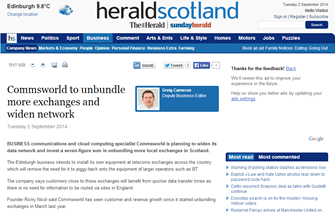 Commsworld have already seen a huge uptake in business through being able to offer companies a superfast, bespoke network service, serviced from 14 exchanges and data centres in Scotland's major cities.

It now plans to expand the roll out of 'unbundled exchanges' into five more locations in the next six months, followed by a longer-term roll out that will create a total of 31 locations.
Businesses served by these exchanges or "points of presence" (PoPs) - in Aberdeen, Glasgow, Edinburgh, Dundee and Inverness - will benefit from the extra provider choice available to them, with Commsworld offering a slicker, more flexible and more resilient service than many of the larger traditional suppliers. 

The unbundling work involves Commsworld engineers installing market-leading equipment in key POPs, which in turn allows them to offer local businesses their various products and services. 

Previously the market was monopolised by network exchanges only offering services from the large incumbent suppliers such as BT, but a UK government initiative to increase competition by unbundling exchanges has gathered momentum in recent years. 

Businesses across Scotland are now benefitting from the number of service providers available with specialist firms, such as Commsworld, offering a more flexible ad-hoc service that is more tailored to the needs of the business.

Andy Arkle, Commercial Director at Commsworld, said: "A lot of our clients tell us they have been crying out for a better more flexible service for years but it simply wasn't available due to lack of competition. 

"When you talk about network communications, people generally talk about speed and we believe we can help with that, but there is a lot more to it such as, response and deployment times, resilience and creating bespoke solutions.  

"Due to the size of our business compared to the larger suppliers and our commitment to leading edge technology we are getting fantastic feedback from the clients who can in-turn offer better facilities to their staff and a better experience for the end user.

"Our work is turning heads and we know for a fact our competitors are watching with interest."

The Commsworld Network is the only indigenous Scottish network of its type, serving Edinburgh, Glasgow and Aberdeen.

This means businesses located next to a Commsworld enabled POP can benefit from quicker access to data without it being bounced through servers in London or Manchester, which is the case with more traditional bigger providers. 

Andy continued: "Our network has been set up to offer increased resilience by using multiple exchanges to deliver information to and from our clients. This means if one exchange should fail there will be a back-up in place. 

"We ensure our clients' applications run smoothly and there is low-latency, which means there is a notable difference in how quickly staff can perform online tasks, therefore increasing productivity and improving customer service. 

"We quite often find that we can help businesses in ways they may not even have realised were possible, but that's what we're here for and that's what makes the job so satisfying." 

In 2013 the UK government launched a grant scheme offering up to £3000 to small businesses and not for profit organisations aimed at helping to improve their network efficiency. Commsworld recently became an authorised provider and Andy is urging businesses in Scotland to take advantage of the money while it's available. 

He added: "A lot of smaller businesses tend to shy away from improving their network as they expect it to be expensive, but the Connected Voucher Scheme initiative basically removes that concern meaning they could enjoy all the benefits without footing the bill."

UK businesses have now ordered more than 500 circuits from Commsworld since its network was launched in 2013.  Commsworld have committed to an aggressive expansion plan with particular focus on low latency performance within the Scottish geography.  

Commsworld, founded in 1994, is Scotland's leading Unified Communications specialist and Network Provider, providing customers with a full range of integrated communications solutions.