As a Mitel SelectParner Commsworld are delighted with the recent news that Mitel has been repositioned in Gartner's Magic Quadrant. Mitel, a global leader in business communications, has moved from the Visionary to the Leaders Quadrant.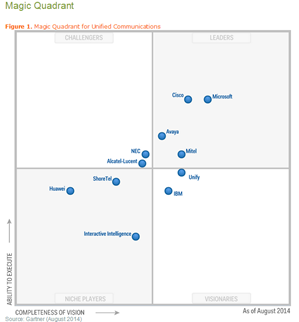 Gartner classifies leaders as "having a full UC offering and a strong market presence, being able to demonstrate success in the field".  Mitel's UC solutions offer a host of tools enabling the end-user access to feature-rich capabilities, comprehensive solutions including:

•    Instant Messaging and Presence
•    Video and Voice
•    Document Sharing
•    Collaborative Working
•    BYOD
As a SelectPartner, Commsworld are fully aware of the unrivalled benefits surrounding Unified Communications, as huge advocates of practice what you preach, we also use the full suite of UC solutions available to us.  As an organisation with employees based in the office, on the road, working from home and even in India these tools are essential for the day-to-day running of our business.
Of course Commsworld believe that Mitel should be positioned even more strongly within the Leader quadrant because in addition to its excellent UC functionality, the underlying Mitel Voice handling capabilities are by far one of the best in the world. 2013 was huge year for Mitel, it went through many important strategic changes with a rebrand of its offerings along with several acqusitions.  With so many changes Mitel now offers a comprehensive UC portfolio and their new postion of leaders in the quadrant has certainly got them off to a good start.
As such we are currently inviting our customers in for a series of live demonstrations to learn more about how having multimedia collaboration tools at your fingertips can deliver organisational benefits.
Unified Communications isn't just another passing phase in the ever changing landscape of technology, but it is one that is here to stay and deliver tangible business benefits and enhanced functionality and communication.
Discover more about UC today by contacting us on 0800 073 2233 for more information or email us to find out more.