An exciting new office development – 177 Bothwell Street – is set to change the Glasgow skyline when it opens in 2021.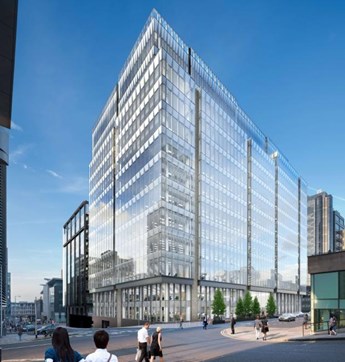 The glass-fronted building, developed by HFD Property Group, will be the city's largest single office building offering around 313,000 sq. ft. of exceptional Grade A office space across 14 storeys. It has been specifically designed with staff wellbeing, connectivity, and sustainability at the heart of the plans, including an 8,000 sq. ft. roof-top terrace, 318 cycle spaces, electric vehicle charging points, and expansive open plan floorplates.
The property is the first development in Scotland to achieve a 'Platinum' WiredScore certification, ensuring future occupiers will have the best connectivity available. Technology will play an integral role in the management of the building too, making it more efficient for the businesses and people who occupy it.
HFD's intelligent building technology can, for example, connect with visitors' mobile devices to allow them to operate security gates and lifts with an app, while touchless, app-activated lighting will remove the need to physically operate switches.  Many of these features will contribute to making 177 Bothwell Street a touch-free office, reflecting the post-Covid-19 reality of working life.
Commsworld is providing all the internet connectivity for HFD. We are connecting Glasgow's largest office building to the rest of the world.
Commsworld has installed its own duct and fibre into 177 Bothwell Street, connecting the building to our ultra-fast Optical Core Network, the largest independently-owned DWDM network in Britain.
This will provide HFD with the seamless, resilient, uninterrupted and flexible digital service needed for a 21stcentury office building – including networks to support Internet of Things technology throughout the building. The buildings occupiers will have access to that same level of service.
We're very proud of the work we're doing at 177 Bothwell Street. Our network infrastructure is robust, secure and scalable and can last the distance – just like all those workers/runners gearing up to tackle that fantastic rooftop running track.
Stephen Lewis, managing director of HFD Property Group, said: "177 Bothwell Street has been designed with occupiers at the heart of it and will provide Glasgow's business community with the quality office space they need to help them attract and retain the best talent. Connectivity was a clear priority from the start and is something built into the core of HFD – we understand the importance of fast, reliable technology and on every project we work closely with DataVita, our data centre and cloud computing provider, and telecommunications experts Commsworld."
We at Commsworld wholeheartedly agree.