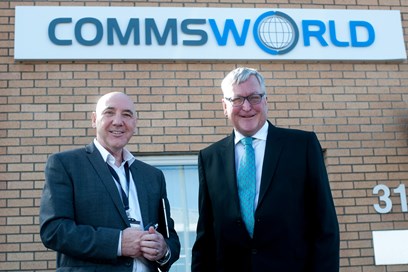 (Commsworld CEO Blog May 2018)
My job means I get to spend a fair amount of time talking to brilliant people doing amazing work at our clients, suppliers and competitors.
And given the collaborative nature of the business environment in Scotland, they are often keen to pass on their praise for our various achievements and continued growth.
As grateful and proud as I always am to hear positive things said of our business, it's not everyday that this praise comes from the man responsible for ensuring Scotland becomes one of the best connected countries in the world.
But that was exactly what happened when we welcomed Fergus Ewing MSP, Cabinet Secretary for Rural Economy and Connectivity to our Glasgow Offices.
It was with great pride that we were able to show Mr Ewing around and he was kind enough to take time out of his busy schedule to hear about our recent successes and our exciting plans for the future.
We discussed our role in the new £30 million contract with Glasgow City Council which will see the city enjoy cutting edge connectivity to help retain and attract the biggest and best businesses from around the world.
We also spoke at length about the rapid growth of our firm and our strong commitment to ensure every inch of Scotland has future-proof connectivity in line with the government's aspirations.
From Elgin to Edinburgh, we are determined to deliver world-leading network speeds which will help attract the best tech talent to these shores.
After our sit-down discussion, Mr Ewing said: "Increased access to gigabit network speeds will help Scottish cities attract and retain innovative technology companies, and I was pleased to hear of Commsworld's plans to deliver gigabit network speeds to public sector buildings across a number of Scottish Local Authorities.
"These contracts serve as a demonstration of the extent of connectivity services available throughout the public estate, and the Glasgow City Council contract will allow schools in Glasgow to utilise this additional bandwidth to foster real innovation in the classroom." 
It was brilliant to hear from someone who shares our passion to see Scotland dominate on the world-stage.
Indeed, the Reaching 100% Programme (R100), introduced by the Scottish Government in 2017, strives to deliver superfast broadband access to all premises in Scotland by 2021 – and we're proud to play a vital role within that plan.
We're living in by far and away the most challenging times for our industry, but they're also the most exciting.
There's a real opportunity to position Scotland as a world-leading hub, capabale of providing ultra-fast connections to hundreds of the city's most exciting firms.
These days, I'd argue a high-quality internet connection is just as important as air travel, and you wouldn't want to travel to London just to leave the country, so why should you have to go there to enjoy top class connectivity.
So it was a true pleasure to welcome Mr Ewing to our offices and I'm excited to see Scotland develop into one of the most connected countries in Europe over the coming years.