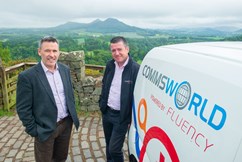 BORDERS businesses are to finally benefit from network infrastructure that matches the fastest connection speeds found in Edinburgh and Glasgow.
A collaboration between two of Scotland's longest established telecommunications firms is bringing fibre to businesses in the region – which has, until now, fallen behind many of Scotland's biggest towns and cities.
Local firm GB Technologies Ltd, which is headquartered in Galashiels, is working with Commsworld to provide a 'next generation network' that can deliver speeds 500 times faster than the average UK broadband connection.
This smart network can also detect the shortest direct route from the Borders – bypassing the 600-mile round trip to datacentres around London that can contribute to slower network speeds.
The new network will be dedicated to business users, meaning customers won't have to contend with residential users using the same connection, which can slow down internet speeds.
Every area in the borders will have access to the fibre network to achieve greater upload speeds and easier transfer of files, while cloud connectivity is greatly boosted thanks to the new network.
Gordon Brown, Founder and Chairman of GB Technologies Ltd, said: "The infrastructure now in place in the Scottish Borders has the potential to have a transformative effect on the region's business landscape.
"For us, working with another Scottish business rather than a multinational brings a number of benefits to us and our customers.  
"The personal service we receive and the focus on providing a genuinely Scottish network enables us to provide local firms with a package that provides speeds that some of the larger network providers are not interested in or able to offer."
This 'local' network, which can provide fibre network to the premises, ensures that businesses –– will be able to access speeds every bit as fast as those in the country's big cities.
With an intimate knowledge of the area, GB Technologies Ltd is able to provide a service tailored to the local community.
Charlie Boisseau, Chief Operating Officer at Commsworld, believes that this will help the Borders retain businesses in an increasingly data reliant world, while attracting further industry.
He said: "The work GB Technologies is doing is fantastic and we are always incredibly eager to work with quality partners based in the areas we are providing connectivity for.
"The next generation network is a great example of what a collaborative and local approach can do for the customers in less densely populated areas.
"This kind of network is able to identify the most efficient route when two connected users are trying to speak to each other – a bit like being in Galashiels and using the A7 to get to Hawick, rather than taking a detour via London!"