More and more businesses are moving their data and applications to the cloud. But what's the reason behind this shift? What are the benefits to your company? Read on to find out about the benefits of moving to the cloud…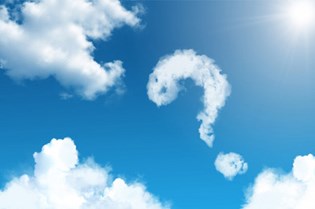 1. It's secure
One of the main draws of cloud computing for business, is the ability it offers to save important data off site.
Saving business data locally carries risks. From lost data to cyber attacks, there are a plethora of ways you might lose business critical data - the outcome of which could be devastating to your company.
The cloud offers a reassuringly secure option for data storage. Data centres, where the information is physically stored, are highly guarded facilities. In comparison to your locked office door, they provide almost Fort Knox-like security with barbed wire, surveillance and high fences.
In a virtual sense, the cloud is monitored at all times too. Highly skilled cyber security experts work constantly to protect the cloud from threats, and regular audits are conducted to keep data safe.
2. It's scalable
You can create your own cloud by hosting, or co-hosting, your current servers and applications in a data centre of your choice and specification. Because businesses change and grow over time, the cloud offers unlimited storage capacity, which can be increased as and when needed.
3. It's flexible
Cloud computing solutions are the direct opposite of a one-size-fits-all. Pick and choose the elements which will work best for your business. For example, our clients who require sophisticated voice applications, such as Contact Centre or Call Recording, benefit from their own private platform, virtualised out of their own private cloud.
4. It's accessible
Since data is stored remotely, it's easy for employees to access exactly what they need from anywhere, on any device. All that's required is an internet connection.
24 hour access to data is an enormously valuable aspect of cloud computing, and perfect for businesses with staff that travel often. It's also ideal for projects that require a degree of collaboration.
5. It's cost effective
Use of the cloud is particularly popular with small to medium sized enterprises because it offers access to popular business applications, without the need to invest in hardware or software.
Applications for accounting, collaborative work, file sharing and business continuity, amongst others, can be stored in the cloud and add significant value to your business.
6. It's easy to implement
Introducing cloud computing solutions to your business is a relatively straightforward task, since no downloading or installing of software is required. Everything is already prepared for you on the cloud.
Over time, cloud solutions will also free up your IT staff to focus on strategic initiatives. They will no longer need to spend time on fixing bugs, updating software or maintaining servers.
So, how can you find the cloud solution that's right for you? Speak to our team today and explore your options. Contact us