Chances are you've heard of gigabit cities. But what exactly are they?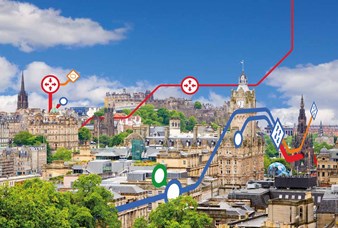 We've been working in partnership with CityFibre to bring faster, more reliable broadband connections to businesses and local services in cities across Scotland. Read on to find out what makes a gigabit city, and why they're such an important part of the digital revolution.
There are currently 22 gigabit cities in the UK, and the number is growing. From Aberdeen to Huddersfield, Milton Keynes to Leeds, under a gigabit city's streets you'll find several kilometres of fibre optic cables. This is a pure fibre network which can offer 50-100 times faster connection than the average UK broadband. And it's revolutionising business and efficiency of local services.
Here at Commsworld, we've worked closely with CityFibre to roll out the pure fibre network and turn Edinburgh, Aberdeen, and Glasgow into the gigabit cities they are today. CityFibre made its largest investment in Edinburgh's new pure fibre network.
What are the benefits?
Nowadays most of us rely on our internet connection - whether at work or at home. Digital connectivity is so important for both social and economic growth. Old city networks can be unreliable and slow, with too much contention affecting the quality of your connection. Gigabit cities enjoy a pure fibre network with unlimited bandwidth and gigabit speed. This can revolutionise how we live and work.
Gigabit cities are a huge asset to the public sector, private business, and the general public - and also for mobile connectivity. At the moment, the biggest improvements in gigabit cities can be seen in local business, government, education and the health sector.
For example, Edinburgh Council uses the network for local services such offices, schools, libraries and social services. The network can help cities achieve their smart city ambitions too, such as offering public WiFi, or installing high definition CCTV.
This pure fibre infrastructure will potentially also be used in homes one day too, as technology increasingly becomes part of our daily lives.
Connectivity now, and for the future
One of the key aspects of building a gigabit city network is future planning. While the network is designed to improve digital capacity for businesses and services now, it also lays the foundations for the future evolution of digital technologies. After all, what's the point in working hard to introduce new technology, only for it to be replaced in future years? Gigabit cities are here to stay.