The way we work is changing. Tablets and smartphones have become commonplace, and working remotely is increasingly part of business culture. Your employees need to be able to work any place, at any time and while also staying connected.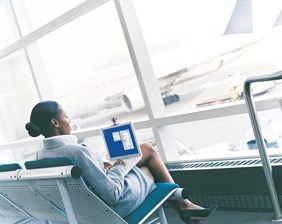 The best types of communication work together, seamlessly in sync - or in other words, unified.
Unified communications - sometimes referred to simply as UC - is a simple, cost effective way to control every aspect of your company's communications in one place. An integrated platform can streamline processes, devices, applications and software.
What is unified communications?
The term unified communications incorporates a whole host of useful tools you can use in the working environment. These include, but aren't limited to:
Telephony
Mobile solutions
Voice connectivity
Instant messaging or chat
Desktop sharing
Information sharing
Speech recognition
Video conferencing
Presence indicator
The beauty of these tools is that you can access the same information through many different mediums. For example, if someone leaves you a voicemail on your mobile you can access it via email. Then you can choose to ping them back with an instant message, if their status shows they are available. It's clear to see how unified communications is transforming the way businesses across the globe communicate internally.
The benefits of unified communications
How much time do you waste trying to reach a colleague? Or searching for a file? Unified communications can streamline many aspects of your working day.
The benefits of unified communications are numerous. Here are just a few ways a UC approach could transform your business:
Different departments and teams can collaborate and work more closely together
Your employees can access the exact information they need - whenever they need it
It's easy to share videos and other types of file
Your employees can work productively and effectively remotely
Cut down on the need to travel
Thinking of adopting a unified communications approach?
You'll be in good company. Increasing companies are using unified communications to keep up with technological advances and work more efficiently.
As with any new process or technology, adopting unified communications works best with a good strategy. One size simply does not fit all, and each business has different needs and objectives.
If you'd like to find out more about unified communications, get in touch.