It's that time of year once again, when the kids are out of school and on some days you wouldn't be surprised to see some tumbleweed slowly making it's way across the mostly empty office…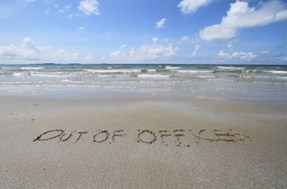 But business must go on as normal. The summer holidays can be a trying time for companies, particularly small to medium sized enterprises that depend upon a small workforce. It's a time when numerous employees want to use their annual leave, yet the usual day to day tasks have to be taken care of. According to the Office for National Statistics, over 17.8 million Brits enjoyed summer holidays abroad last year, and the number is set to increase further this year.
The best way to deal with the summer holiday rush is to be fully prepared. Unified Communications can help your company ease into the summer holiday period...
Use Unified Communications to keep business ticking over
Providing a seamless transition into the holiday season, Unified Communications is the ideal way to make sure you have all bases covered. From sharing documents to remote working, our unified communications solution integrates all the core services of your business.
Instant messaging and presence indicator means your employees can quickly find out if the person they need to speak to is available. Rather than waiting on a response to an email, they can find out instantly who is in the office and go to them directly.
Likewise, having access to important documents and files is essential to keep business running smoothly. Unified Communications makes it quick and easy to share documents and store them centrally so they are available to anyone who needs them at the click of a button.
Those with childcare responsibilities may need to work from home over the school holidays. A unified approach makes working remotely productive and efficient, thanks to collaboration platforms and voice connectivity.
Don't let the summer holidays add additional stress to your working day, or disrupt business - use unified communications to ensure operations continue to run smoothly.