Socially speaking, Christmas and New Year is a busy time. But that doesn't mean working life stops too. Keeping your business ticking over whilst your staff are on annual leave can be a balancing act. It's a challenging time, particularly for small businesses with few members of staff. Preparing now and getting the right processes in place should help alleviate any disruption when the festival season well and truly kicks in.
Here are our top tips for keeping your business running as normal over Christmas...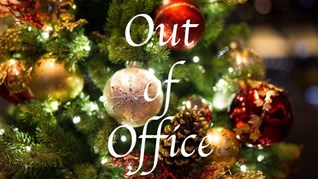 Adopt a unified approach
There is nothing more frustrating than trying to find a file or important document and being unable to access it because your colleague is out of office. Make sure this scenario doesn't unfold over Christmas time by taking a unified communications approach.
This streamlined approach can integrate all your business essential processes, devices, applications and software. Using a variety of unified communications tools, such as instant messaging, presence indicator or desktop sharing, employees in the office over the festive period can enjoy the same level of productivity as they do year round.
Make remote working simple
Over the Christmas period, some of your employees may need to work remotely - either by prearrangement or in unforeseen circumstances, such as adverse weather conditions.
Having a reliable network and connection is essential for employees who need to work from home, as is being able to access shared data from the cloud. Have a clear support structure in place to offer assistance to any junior members of staff, should they need it.
Reward your staff
Keeping business running as normal is important, but allowing your hard working staff to enjoy some much needed rest and relaxation over the Christmas period is important to keep your workforce happy too. After all, happy workers are productive workers!
If staff do have to come into the office over the Christmas, make the environment a little more festive to lift their spirits. A couple of mince pies never did any harm too!
Get watertight cyber security
Did you know that cyber attacks increase exponentially over the Christmas period? It's never too soon to make sure your data is safe and protected from DDoS style attacks.
Use the quiet times to plan
With many other businesses out of the office over Christmas, it can be a quiet period. Take advantage of the lull and use this free time to start planning for the year ahead.
Start looking at areas of your business that could be improved - need a better network? More data storage? Better cyber security protection? Pop it all on your list to-do for the year ahead.