Our festive 'Spin to Win' is now closed, thank you to everyone who entered.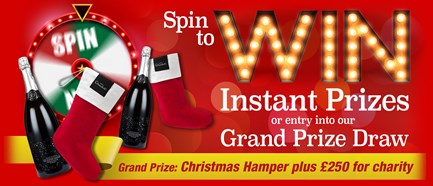 Congratulations to our all our Instant Winners and to the Grand Prize Draw Winner who won a Commsworld Christmas Hamper and a £250 towards charity.
Our winners are:
Grand Prize Draw
Richard MacLennan, Law Society of Scotland (Richard chose Marie Curie for the £250 donation).
Instant Prize Winners
Chris Dudar, IFB
Claire Mackenzie
Heather Birrell, Burness Paull LLP
Jaclyn McIntosh, Ajenta
Mike Ryan
Rebecca Sellers, Clyde Property
Douglas Walker, Dynamic Earth Enterprises Ltd
James Titcomb, Nye Swarthoull
Lauren McClemont, Harper Macleod LLP
Mark Moncrieff, GB Technologies Ltd
Mairi Hamilton, Fyne Homes
Stuart Little, Provista UK Ltd
Graham Kerr, Shepherd & Wedderburn
Margaret scotland
Merry Christmas from everyone at Commsworld