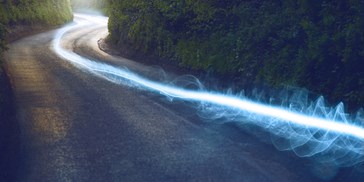 Dark fibre is a term given to the unused or unlit cables used in fibre optic communication. The unused network holds the potential for businesses and organisations to reap the benefits of a Pure Fibre connection, benefits including gigabit speeds and future-proof connectivity.
Several of Scotland's key cities have tapped into the potential of dark fibre, and at Commsworld we've been delighted to help Aberdeen, Edinburgh and Glasgow become Gigabit Cities where business can thrive.
Where has the dark fibre come from?
The proliferation of fibre cables under Scotland's streets can be, in part, attributed to the dot-com bubble. Between the years of approximately 1997 and 2001, there was an exponential increase in the number of businesses and homeowners using the internet and so demand for connection was high.
However, the dot-com bubble soon burst, and many miles of unused dark fibre was left dormant under the city streets.
A new lease of life for dark fibre
Following the initial boom of dark fibre and the resulting over capacity, a number of dark fibre providers emerged and consolidated. Although the market was smaller, the demand from businesses and organisations for dedicated networks grew and providers saw the potential of lighting up the existing fibre.
Some organisations, such as higher education institutions in the USA, chose to buy up the dark fibre and create large networks for the students and local community. Alternatively, businesses and local services have turned to network carriers, which can offer specialist technical support with a dedicated connection.
The emergence of Gigabit Cities
Cities with pure fibre networks which enjoy unlimited bandwidth and gigabit speeds, are often referred to as Gigabit Cities. Across the planet many cities have been transformed by rapid, citywide deployments of pure fibre infrastructure. The benefits gigabit speeds and reliable connections can bring to business and local services such as schools, hospitals and government are numerous.
In 2011, Google introduced Google Fibre to Kansas City - making it the first city in the US, and indeed the world, to be coined a 'Gigabit City'. The idea behind it was to make internet access better and faster for everyone who lived there. And it's an idea that quickly spread.
The rise of the UK's first Gigabit Cities started in early 2015, with Peterborough becoming the first to enjoy the new digital infrastructure.
In Scotland, we teamed up with CityFibre to bring pure fibre connections to businesses and services in Edinburgh, with work starting in May 2015. CityFibre also rolled out similar projects in Aberdeen and Glasgow with Commsworld being able to provide Pure Fibre to businesses in the city centres. 
Long haul dark fibre routes
As well as creating pure fibre city networks, we've recently also procured and lit a 50 miles of dark fibre between Glasgow and Edinburgh. The new long haul dark fibre route connects Pulsant data centre in Edinburgh with the Fortis data centre in North Lanarkshire. The connection carries tens of gigabits capacity between the two major cities.
The role of pure fibre in Scotland's ongoing digital revolution is already firmly established. And thanks to the network's adaptability, it will continue to grow alongside Scotland's businesses.