Commsworld CEO Blog - April 2017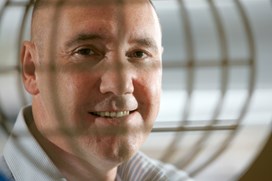 Born and bred in Edinburgh, I have grown up with the very visible attractions of the city - the Castle, the Royal Mile, the galleries. Magnets for tourists, our historic buildings will continue to make a huge contribution to the city's economy.  But our future prosperity as a city will also rely on an investment that is happening right now but is invisible to most people.  
In 2016, my company Commsworld worked with CityFibre to install a ground-breaking 150 km fibre optic network across the city, establishing Edinburgh as the UK's largest 'Gigabit City'.  It was all part of the vision created by the City of Edinburgh Council when they appointed the international IT company CGI to transform digital services across the capital.  
Take Portobello High School for example.  It is one of the newest schools in the city but it is also at the cutting edge of technology.  We were able to connect the school to the Council's state of the art, ultra-fast 1Gb fibre optic network, Edinburgh CORE. We also ensured that Wi-Fi was available throughout the building, allowing pupils to airdrop data to Apple TVs in every classroom and installed technology that allows them to pay for their lunch via a fingerprint.
Super fast internet speeds allied to the latest technology mean that tablets and laptops are now key to education delivery.  They also allow pupils to collaborate, share information and complete homework and classwork online. Any homework pupils complete can be saved in a cloud-based system such as Microsoft Office 365, which allows them to access it anywhere. This investment has transformed the lives of both teachers and pupils.
Portobello High School is not alone.  This digital infrastructure is being rolled out across the city to schools, universities, community centres, libraries and other council-run sites.  In new and old buildings, it allows citizens to access the internet at speeds that couldn't be imagined before.
As the roll out continues, Edinburgh schools will all soon have internet speeds up to 1 gigabit per second, which can, if required, be boosted at short notice up to 10 gigabits per second.  We are looking at libraries with speeds of 100 megabits per second and Council offices are now connected to the superfast fibre optic Wide Area Network (WAN), Edinburgh CORE. In many buildings, bandwidth is now 100 times bigger than it was before.  This investment will change every aspect of our lives.
Some of the young people sitting exams in Edinburgh's schools in the next few weeks may be looking to a career in the Gaming industry, which is one of the most exciting and fastest growing sectors in the Scottish economy.  It is also one where Scotland can justifiably claim to be among the world leaders, with world-leading brands including Minecraft, being developed in the country.
Our high speed internet roll-out, in partnership with CGI, enabled Scotland to host the UK's biggest gaming festival, Insomnia, for the first time ever. This was only possible because the Edinburgh International Conference Centre (EICC) had been connected to the Edinburgh CORE network.
Gaming conferences require a huge amount of data per person and it was essential for people attending the festival to have high bandwidth and a steady connection for gameplay. Commsworld installed additional bandwidth in just three days to cater for around 2000 gamers descending on the city, bringing the internet speed up to 10 gigabits per second. We also had our engineers on site before the event began to ensure that internet speeds were strong and stable, as well as attending during the event to ensure any glitches could be fixed quickly.
Politicians and industry leaders all recognise the need for digital investment.  I have recently heard both the Education Secretary, John Swinney and Stephen Boyle the Chief Economist at RBS make the same point at different events - digital technology is the key to a successful economy.  Cities and countries that do not invest now for the future will be left behind.
The leaders of City of Edinburgh Council recognised this last year when they set out the terms of the contract that CGI and its partners will deliver over the next few years.  We are delighted to be playing our part and I would encourage every city in Scotland to follow their example. 
Fibre optic cables and super fast Wi-Fi connections may not have the visual appeal of our historic buildings but residents and visitors to Edinburgh will all benefit from this investment.  Digital is the future.  We must embrace it. 
Digital technology is the key to a successful economy - what are your thoughts?  Do you agree?  Feel free to discuss with me:
Call me: 07968613335
Email me: ricky.nicol@commsworld.com
You can even Tweet me: @rickynic